Celebrating the New Year
Happy New Year! Rob and I wish you all a very happy new year, and we hope that each of you has a safe and memorable holiday as you celebrate the start of 2023 with your families and loved ones.
During 2022, I have had the opportunity to speak with many of you throughout our great country. Serving you in the United States Senate is a task I do not take lightly, and I am grateful for the confidence that Kansans have once again placed in me. I remain grateful to you for our discussions and your insight into the many issues facing our country as we enter 2023.
We wish Fort Riley Commanding General John Mayer III and the Soldiers the best of luck Holidays
As the holiday season draws to a close, I had the opportunity to call the commanding general of the 1st Infantry Division, Fort Riley, Maj. Gen. John Meyer III, to wish him a happy holiday and thank him for his service to our country. Our servicemen and women make many sacrifices during the holidays to protect and defend our nation. Rob and I are grateful for their selfless dedication and pray for their health and safety.
New Co-Chairman of the Senate Army Caucus
I was honored to be selected as the next Co-Chair of the Senate Committee on Army Elections. As a senior member of the Senate Subcommittee on Defense and a member of the United States Military Academy (USMA) Board of Visitors, I am humbled to serve as co-chair to replace retiring Senator Jim Inhofe.
Kansas has a proud history of military service and is home to a significant Army presence with Fort Riley, Fort Leavenworth and the Kansas Army National Guard and Reserve. Throughout my time in Congress, supporting our military institutions in Kansas has been a priority, and this position will allow me to better advocate for our soldiers and their families in Kansas, the United States, and around the world.
Senator Inhofe has been one of Congress' most influential and powerful advocates for soldiers and their families, and I am grateful for his many years of leadership on the Senate Army Caucus and in the United States Senate. I look forward to working with Senator Reed, Army leaders, and members of the Senate Armed Services Caucus to support our nation's soldiers and their missions.
Sen. Jim Inhofe, retired co-chairman of the Senate Army Caucus, on the selection: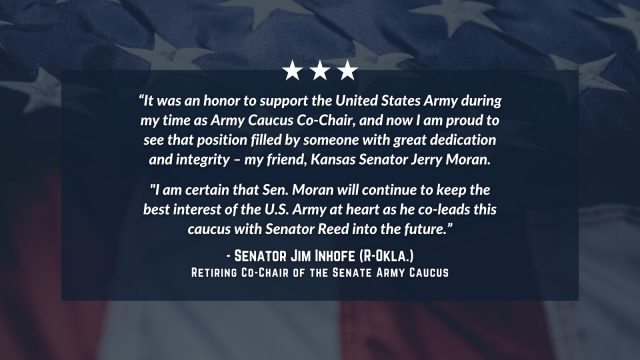 Senator Jack Reed, co-chairman of the Senate Armed Services Caucus, on the announcement:

Production of Touring Blanchat
This week I visited Blanchat Manufacturing in Harper to see firsthand their manufacturing capabilities and learn about the custom wildland fire and rescue vehicles they make. Owned by Harper County native Greg Blanchett, the company's primary customer base is rural and volunteer fire departments across the United States. I want to thank Greg for hosting me and sharing his insight into the industry.
Comanche County Hospital Visit
I visited Comanche County Hospital in Coldwater, where I got a full tour of the facility and the staff gave me an update on their work to provide quality care to local residents. I appreciate the opportunity to learn more about how the hospital serves Kansans in Coldwater, Protection and Wilmore. Thanks to CEO Lisa Brooks for having me at the hospital and giving an informative tour of the services it offers.
Visit the Grow & Learn childcare center
On Thursday I visited the Grow & Learn Childcare Center in Leoti. This day care facility is the result of years of hard work by people in the community who identified a need for childcare and volunteered countless hours to provide a solution. This center will meet nearly half of the estimated childcare needs, providing new opportunities for parents to join the workforce.
Thanks to City Councilman Greg Graf, Economic Development Director Nikki Bjurstrom, Tammy Simmons and Simone Elder-Kahoya. Simone is a former intern of mine and I am proud of her dedication and efforts to improve the local community.
A tour of the Nu Life market
It was great to visit Nu Life Market, a food factory in Scott City, to learn about their business. They create a variety of products from grain sorghum grown throughout the region, with strict adherence to maintaining food quality and safety. Flour and other products produced here can be found on grocery store shelves and on restaurant menus around the world. I want to thank Nu Life Founder and President Earl Roemer for the informational tour and State Representative Jim Minix for joining us.
Kansas Community Visits
I always appreciate the opportunity to talk to and hear from Kansans. Thanks to everyone who took the time to visit me this week.
Sharon
On Wednesday I had the opportunity to visit the Sharon folks at the US Post Office, Anthony Farmer Co-op, Sharon Center and White Tail Heaven Outfitters.
Medicine Lodge
It was also great to talk to community members at the Medicine Lodge when I stopped by the USDA Natural Resources Conservation Service, Barber County Courthouse, County Clerk, County Assessor, Courtroom, Sheriff's Office, The Peoples Bank, Cranked Up Confections and Gyp Hill Premiere, the local newspaper.
Cow
I stopped by to visit the Gove County Courthouse where I stopped by the offices of the County Sheriff, County Clerk, County Clerk, Register of Deeds and County Treasurer. During my time in town, I also visited the County Assessor, the US Post Office, the USDA Service Center, and the Gove County Conservation District.
Healy
I would like to thank those in Healy at the US Post Office, First State Bank of Healy and Healy Oil who took the time to speak with me.
Dayton
In Dayton, I stopped by The Dighton Herald, the Lane County Courthouse to visit the offices of the County Clerk, County Assessor, County Treasurer and Register of Deeds, the Lane County Library, Farm Bureau Financial Services, the Lane County Attorney's Office and First State Bank. Dayton.
Connected