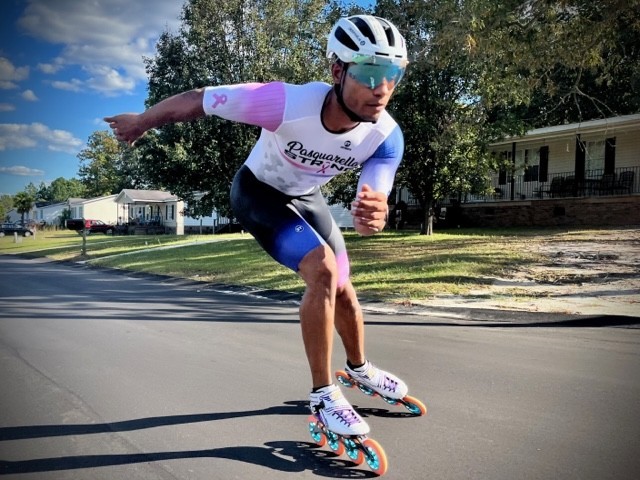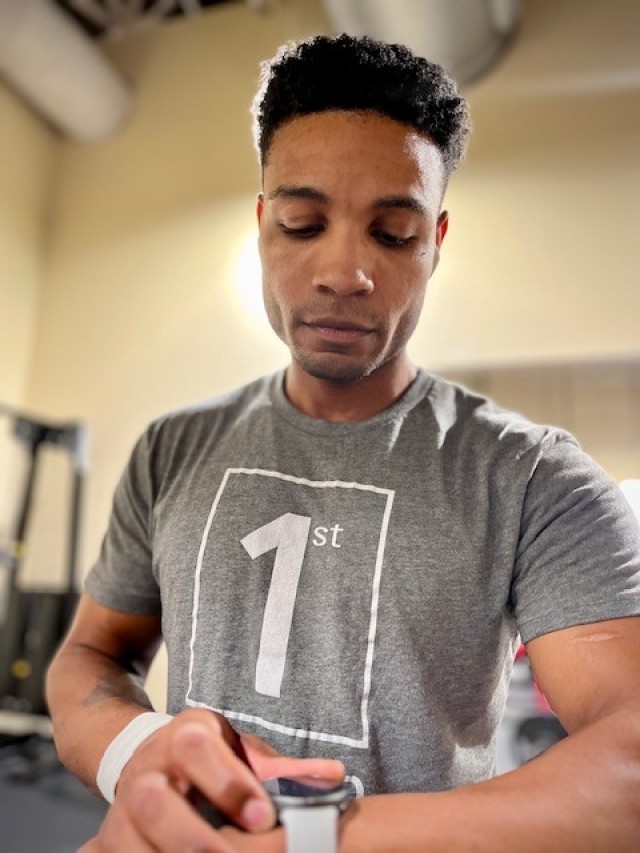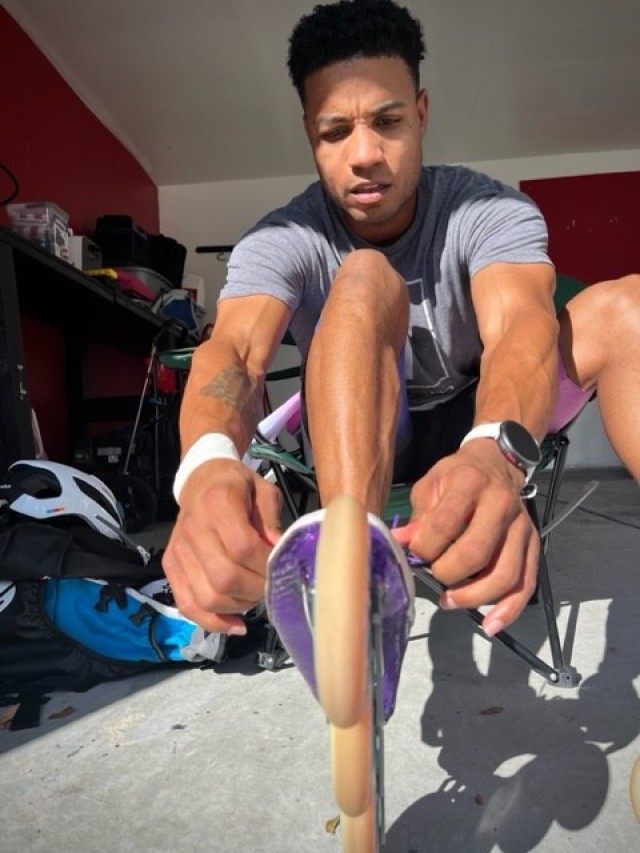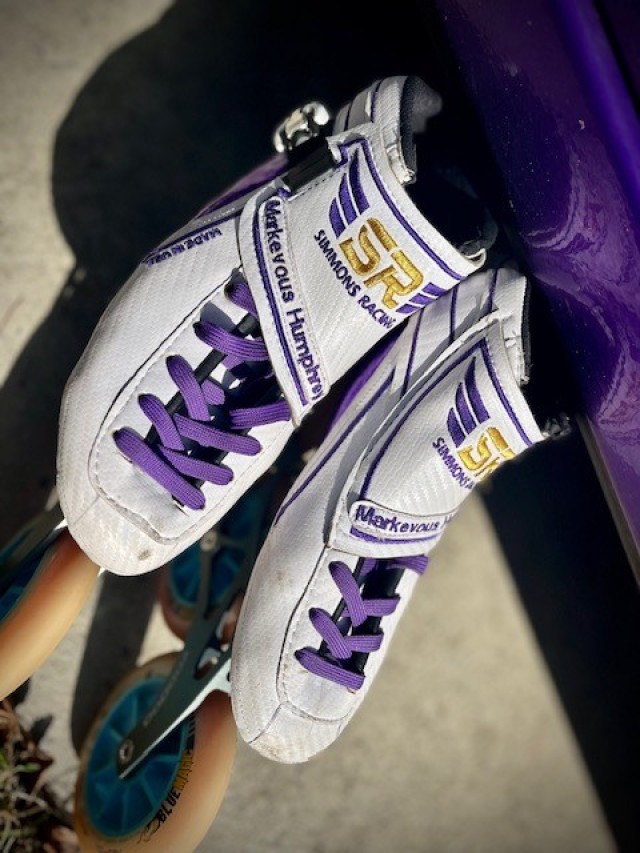 Sometimes the passion you never knew you had skated into your life. It happened quickly for one US Army reservist who is now on pace to reach his goal of competing in the Olympics… 100 meters at a time.
Sgt. 1st Class Markevous Humphrey, of Onley, Virginia, was always an athlete. Growing up, he attended Nandua High School where he competed in football, track and wrestling.
"I was actually the 2005 state champion in my weight class in wrestling," Humphrey said. "I also joined the basketball team, but I couldn't make it to practice because of my soccer schedule."
Humphrey didn't know it then, but he was already training his body for a sport he had never even considered.
One day, while thinking of things to do with his daughter, he decided it would be fun for them to go ice skating together. Both took up the hobby and continued to improve their skill level.
He took things a step further by attending an adult ice skating night at a local ice rink, and fate stopped him.
One of his skate wheels began to wobble so that he could no longer skate. He skated to the in-house repair shop and started talking to one of the managers. (Owners of skate shops)
A skate shop owner who had seen him skate asked him if he ever thought about starting in USA Roller Sports. (Speed ​​Skating). I attended a couple of training sessions and didn't like it at first. Then I joined the Skate city speed team.
This prompted Humphrey to attend a clinic that taught visitors the rules and proper form. At the event, he met some of the best roller skaters and began to believe he could excel in the sport.
USA Roller Sports is recognized by World Skate and the United States Olympic and Paralympic Committee as the national governing body for competitive roller skating in the United States. These sports include; speed skating, figure skating, roller hockey, roller derby and other extreme sports in the United States.
After a little over a year with the Skate City speed team, Humphrey moved to the Synergy speed team from Colorado. With this team, he then competed in his first Outdoor Nationals and came close to beating the previous years national champion.
Months after that, he competed in his first indoor championship.
He came second in the competition and gained a lot of attention from others who had been competing for years.
Since then, Humphreys, who usually competes in the 100-meter speed skating event, has placed highly in every event he has competed in and has become one of the fastest skaters in the sport.
After Humphreys came to North Carolina for the order, he joined the High Point Speed ​​Club based out of High Point, North Carolina to continue his racing.
Last month, Humphrey picked up a weekend pass, grabbed his skates and made the 11-hour drive to attend the 2022 USA Track Championships and Team USA Trials in Hollywood, Florida.
Although he won silver (due to a false start), he was still invited to compete in the 2022 World Figure Skating Games. The competition was held from October 24 to November 13, 2022 in Buenos Aires, Argentina at Puerto Madero Park.
The event was by invitation only and featured top skaters from around the world.
Just four years after starting his journey in the world of inline speed skating, he is now competing in every major competition the sport has to offer.
Individually, Humphrey has accomplished a lot in his short time in the sport, but he has also contributed immensely to his team as a whole.
"Humble raises expectations," teammate James Springer said. "He encourages and improves others by doing it for himself."
Springer says Humphrey makes everyone feel valued. He remembers the first time they met. Even though he hadn't skated in two years, Humphrey walked up to him and congratulated him.
"This community is tight-knit," Humphrey said. "I haven't met anyone I didn't get along with, and we're all trying to help the kids who come into the sport."
Humphrey is currently on a one-year active duty order, but normally serves as a Troop Program Unit (TPU) soldier.
A TPU soldier, unlike active duty soldiers, serves part-time, allowing them to earn extra pay, go to school, or work a civilian job while maintaining many of the benefits of military service.
These soldiers typically train on specific weekends and conduct annual exercises that typically last two weeks.
"My team was very supportive of me," Humphrey said. "They have allowed me to build up time so that I can be present at my races."
His success can be measured in many ways, but he says the most important thing to him is that he leaves the room knowing he's doing his best and because everyone around him is better.
Humphrey trains hard to compete…he trains hard to be a soldier…and he always does it with a smile on his face.
"I'm always ready," Humphrey said. "I've achieved a lot, but I won't stop until I bring home Olympic gold."