Lainey Wilson is getting more candid about her 'Yellowstone' kiss.
Wilson recently opened up about what it's like to debut on a show that means so much to her, and the learning curve she's had in preparing for her first on-screen kiss. Since the show takes place on a ranch in Montana, both she and actor Ian Bohun (who plays ranch hand Ryan) wore cowboy hats, which proved to be a hindrance when filming the scene.
"It's definitely tilting the head to one side; the angle is very important," Wilson told USA TODAY. "Another kiss where I took off my hat. That's when you know you're going to start."
Before filming the scene, Wilson recalls that she wasn't sure about her act at the time, but decided to jump right in.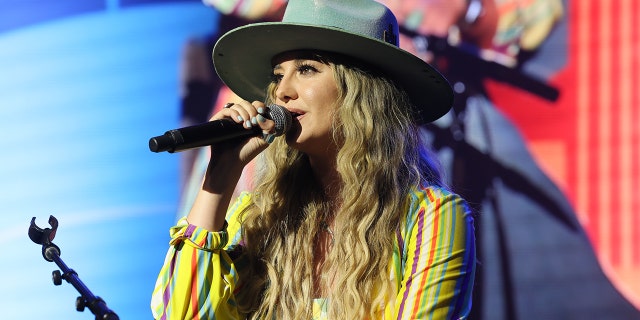 LAINEY WILSON DETAILS What It Was Like Filming 'Yellowstone', Recognized After 11 Years in Country Music
"I don't really know what I'm doing, but you get in there first. I'm going to give people their money's worth," Wilson said. "I told my mom and dad, 'You guys probably don't want to watch this show.' I didn't want to be on their prayer list."
Her debut on "Yellowstone" was especially meaningful to Wilson because the show's creator, Taylor Sheridan, has long been a supporter of her music, even using her song "Overtime" in the Season 2 premiere Set in 2019, well before Wilson landed a record deal.
Sheridan cemented his support for the country music star when he created the character of Abby specifically for Wilson in February 2022.
"[Sheridan] "He said he wanted me to be me, which is a dream come true, especially when you're trying to introduce yourself to people," Wilson said. "All I got from him at the time was that I would play a musician who would fall in love with one of these boys. He didn't even tell me which one."
Wilson previously told Fox Digital News that while she didn't have any parts with Kevin Costner, she was able to meet the rest of the cast and had a close encounter with some of them.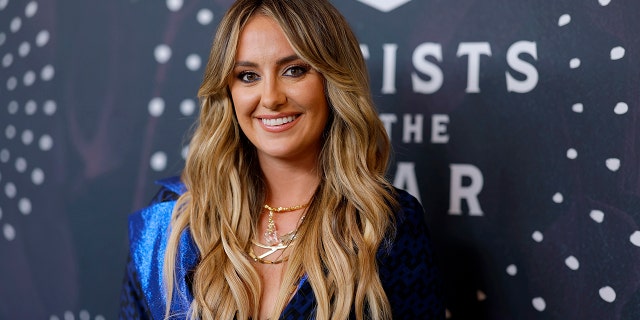 "I became good friends with 'Beth' Kelly Reilly. She's a spitball, but she's also one of the cutest people I've ever met," Wilson said, noting that she "did a lot" with other actors became friends they "welcome [her] Open your arms. "
For the "Dear Mrs. Loretta" singer, the episode turned into a big, unbroken moment as she found herself in the back of a flatbed trailer singing the music of the late Loretta Lynn, something Wilson had done early in her career. Doing things, when she landed her first job in the entertainment industry by serving as a stand-in for Miley Cyrus in "Hannah Montana."
"I was singing on this flat stage again, but not in my Hannah Montana wig. I thought, 'Damn, this is a full circle moment for me,'" Wilson told USA TODAY. "I'm singing 'Watermelon Moonshine,' a song about young, wild and crazy love."
Click here to sign up for the entertainment newsletter
Her Yellowstone debut comes just over a month after her new album, Bell Bottom Country, which was released on October 28. Many songs from the album can be heard weekly on Season 5 of "Yellowstone Park". She previously told Fox News Digital that the album was all about helping her fans embrace what makes them special.
"It's about finding what makes you unique and putting as much of it into it as possible," Wilson explains. "It could be where you came from, how you were raised, the way you talk, what you look like, the way you dress, your story. It's just unapologetically throwing yourself into it and being yourself, and I think that's what we've done with this record. I pull back those layers, dig a little deeper, and share sides I didn't know I had. "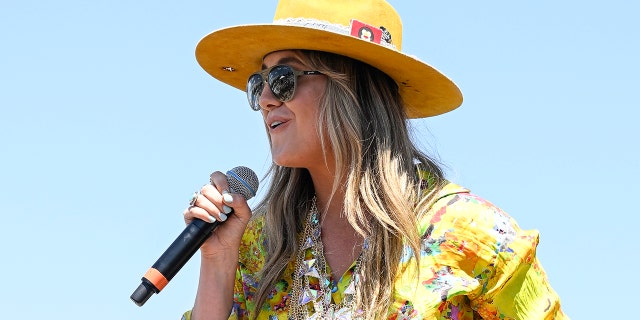 Click here for the Fox News app
While Wilson appears to have achieved her goal, she says she's "just getting started."
"We're working hard, just to work harder. Now is the time to roll up our sleeves," Wilson said. "I'm trying all these new things, even Yellowstone, which is my first show. I'm excited to see what's next."